Chicago's Business and Association Connection
CAM-Unity is designed to keep our business friends and colleagues abreast of all of the amazing opportunities and benefits of our association clients' programming. Topics on these session and events range from business management, technology, leadership and presentation skills to fun activities that involve exploring Chicago, visiting new venues and taking in in the city's entertainment scene.
CAM-Unity offers participants a chance to learn, network, share and enjoy. Please look for future emails on upcoming CAM-Unity events or visit our CAM-Unity LinkedIn Group or CAM-Unity Facebook Group to join in the discussions.
Stay up-to-date with upcoming events. Search the online calendar here.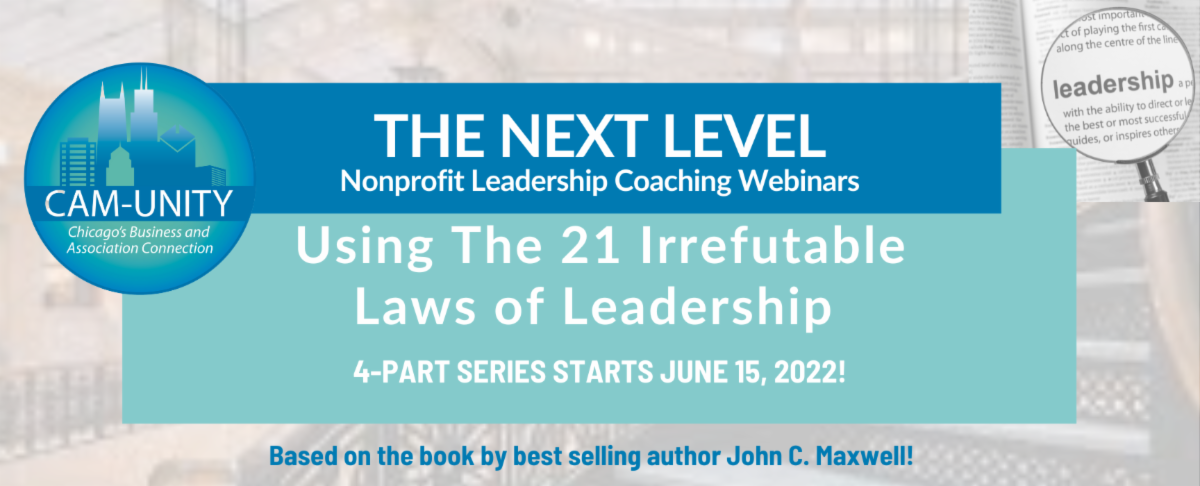 The Next Level
Using The 21 Irrefutable Laws of Leadership
The 4-part Series begins Wednesday, June 15, 2022
12:00 – 1:00 pm
Online Series – Zoom
Please join us as we have Valerie F. Leonard, Founder of Nonprofit Utopia, LLC, lead and coach us through a 4-part Lunch and Learn webinar series based on the book written by best-selling author John C. Maxwell, The 21 Irrefutable Laws of Leadership Leadership starting on June 15, 2022, from 12 – 1 pm. The online series will run bi-weekly for 8 weeks as follows*:
6/15/2022 – Session 1 – Irrefutable Laws 1-7
6/29/2022 – Session 2 – Irrefutable Laws 8-14
7/13/2022 – Session 3 – Irrefutable Laws 15-21
7/27/2022 – Session 4 – Review Assessment Results; Overview of Individual Leadership Planning Process
Valerie is a nonprofit business expert who helps clients move the needle on some of their most pressing problems through coaching, consulting, and community and will do the same for you!
For this particular series, she will:
define leadership
share key takeaways from the book and her own life experiences
show you how you can take stock of your own leadership capabilities using the John C. Maxwell Leadership Assessment Tool
she will guide you in how to develop your own personal leadership plan
By the end of the series, you will have a better sense of how to increase your own leadership ability and strengthen your leadership team to produce even greater results over time.
*Please note that we realize you may not be able to attend every session, so please check the dates that you are able to attend at this point in time on the online registration form.
Additionally, you may want to consider buying the book and corresponding workbook to support your learning. Both are available through Amazon.
About CAM
CAM provides a wide range of professional association management services to organizations nationwide.
Chicago Association Management
a Division of Corporate Event
Enterprises, Inc.
400 East Randolph St.
Suite 2305
Chicago, IL 60601